15 August 2017
Conversion Design by KNUD E. HANSEN
Original article in Danish from Maritime Danmark by Jens Nørgaard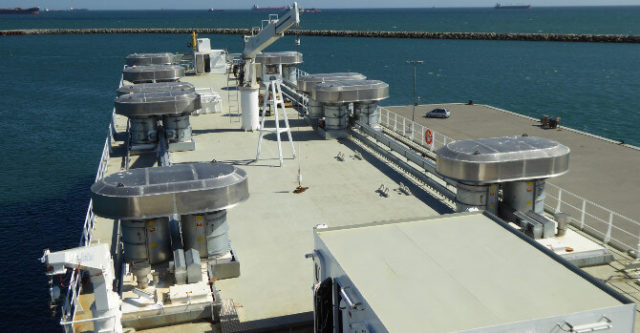 Corral Line ApS – a shipping company based in the southern Jutland Egernsund and a specialist in maritime transport of live animals – has sent a "new" ship to sea after a major rebuild in Poland and partly in Skagen, Denmark. Alondra is a former feeder vessel, which the Danish shipping company has had docked in Svendborg since 2012, in hopes of better times for the market. The converted feeder-ship replaces a former member of the "family" in Corral Line – livestock carrier "Falconia", which was built in 1973.
Different work was done to the ship during its 4-year berth in Svendborg Denmark, at Petersen & Sørensens Motorværksted.  The main engine was overhauled, and the hull was treated in the workshop's floating dock. The newly converted vessel is the largest in the company's fleet of 3, and will be used to transport live animals between Australia and Asia, as well as the United States and Africa. Alondra was built in 1995 by a German shipping company – J. J. Sietas, in Hamburg, which is known for supplying two sister ferries to the Danish Spodsbjerg-Tårs crossing.
After delivery, the ship was operated as a feeder vessel in the Baltic Sea under the name "Alrek", and later as "Transnjord". The vessel sailed under the Gibraltar flag and was later changed to the Panama Flag – it still operates under the Panama flag today. The vessel measures 98 meters in length, and 16 meters in width; the design draft is 5.2 meters; and service speed is approximately 14 knots. At full load, the vessel will carry up to 2000 cattle. The total weight of the new design will be approximately 6,000 tons.
The crew consists of 19 people – all from the Philippines, where the majority have multiple years of seniority within the shipping company. Captain Rex Delapena has sailed with Corall Line for more than 10 years; boatman Brena Edison has been employed for 28 years. In its role as a cattle carrier or live-stock carrier, the ship has been renamed "Alondra".
The former feeder was, in 2016, tugged from Svendborg to Gdynia for conversion at Nauta Shiprepair Yard SA, where the former cargo hold was expanded to be used as stables, and where the hull was also painted. Hull works were completed in February this year. Alondra was afterward sent to Karstensen Shipyard in Skagen, under the power of a Polish tugboat. The ship was docked there until mid-July; after which it was sent on to its first real job as a livestock carrier. For the yard in North Jutland, which has full contract books – special rebuilds and trawler renovations – for many years, the overhaul of the Alondra became an exciting task. And, also to subcontractors like Scanel International A/S, in Frederikshavn, which has been responsible for the electrical work on the ship.
International Shipping and Transportation
With the fitting of stalls aboard Alondra – spread over five levels, there is room to transport up to 2000 dairy cows. The animals will be kept in booths with automatic water and feed dispensers; each booth has space for five to ten cows. During the journey, the animals will have space to lie down, and only need to stand up when they feed. Chief Commander Gregorio G. Jaca says that the animals quickly adapt to the new environment and the rolling movement of the ship at sea. On average, the journeys will take between 15 and 25 days. The booths are kept clean; animal excrements are washed down sewage gutters along the corridors, then flow into an excrement tank. Alondra has its own freshwater plant, whilst the cattle's 340 tons of feed is delivered from lorries. Alondra will sail internationally, and the ship must be approved by the Australia Maritime Safety Authority (AMSA). The authorities from the Land Down Under have strict requirements regarding animal welfare, however, this is only expected to be a formality for the Danish-owned ship. Alondra recently went from Skagen to Waterford, south of Dublin in Ireland, to pick up its first load of livestock, to be delivered to the port of Bandirma in Turkey.
CORRECTED BASIS 1892 Corral Line's story dates back to 1892, where it was originally named C. Clausen D/S A/S after the current owner's, Bjørn Clausen's, grandfather, Captain Carl Clausen. The company later changed its name to Sønderborg Rederiaktieselskab in 1980. Bjørn Clausen is the third generation of this shipping family. However, with a bankruptcy hanging over its head, it was decided in 2002 to divest the company and five ships to the Corral Line A / S subsidiary. The shipping company had been in severe difficulties due to the economic collapse in Southeast Asia, and outbreaks of foot-and-mouth disease in Europe and South America. This led to overcapacity in the market and had a big impact on the shipping company. Today, the shipping company is going strong. In Egernsund, however, they are still careful after the many ups and downs in the industry.
During its glory days, the South Jutland shipping company had 15 ships – including the EQ's "Cambodia", which was rebuilt and renamed "Linda Clausen". As a ship owner, Bjørn Clausen belongs to one of the most experienced shipping families in Denmark. He has been on the board of the "Danish Ship owners' Association" – now "Danish shipping companies". He has also been on the Board of the Danish Maritime Fund for 10 years.
TIDLIGERE FEEDERSKIB GENOPSTÅR SOM MODERNE LIVESTOCK CARRIER
I det sønderjyske Egernsund baserede rederi Corral Line ApS, der er specialist i søtransport af levende dyr, har sendt et "nyt" skib i søen efter en omfattende ombygning dels i Polen og dels i Skagen. Det drejer sig om et tidligere feederskib, som det danske rederi har haft liggende i Svendborg siden 2012 i håb om bedre tider for segmentet livestock carrier i world wide fart. I realiteten afløser det ombyggede feederskib et tidligere medlem af "familien" i Corral Line – den i 1973 byggede livestock carrier "Falconia".
Under sit 4-årige oplæg i Svendborg hos Petersen & Sørensens Motorværksted, blev der på skibet udført forskelligt arbejder. Blandt andet blev hovedmotoren overhalet og bunden behandlet i motorværkstedets flydedok. Det nu "nye" og ombyggede fartøj til Corral Line er rederiets største af 3 skibe, der især er beskæftiget i farten med levende dyr mellem Australien og Asien samt USA og Afrika. "Alondra" blev bygget i 1995 til et tysk rederi hos J. J. Sietas i Hamborg. Værftet vil være kendt som dem der leverede tvillingefærgerne til Spodsbjerg-Tårs overfarten.
Straks efter aflevering fra Sietas blev skibet indsat som feeder bl.a. i Østersøen under navnet "Alrek" senere "Transnjord". Feederen sejlede dengang under Gibraltar flag og skiftede senere til Panama Flag, som også er flagstat i dag. Fartøjet måler 98 meter i længden, 16 meter i bredden. Dybgangen er sat til 5,2 meter. Servicefarten ligger på ca. 14 knob. Ved fuld last i form af ca. 2000 kvæg udgør tonnagen i det nye design som såkaldt "livestock carrier" ca. 6.000 tons.
FILIPPINSK BESÆTNING Besætningen består af 19 personer – alle fra Filippinerne. De har mere eller mindre mange års anciennitet i rederiet. Kaptajnen Rex Delapena har sejlet for Corall Line i flere end 10 år – bådsmanden Brena Edison har været ansat i 28 år. I sin rolle som "cattle carrier" eller "live stock carrier" om man vil, har skibet fået navnet "Alondra".
I 2016 blev den tidligere feeder slæbt fra Svendborg til ombygning i Gdynia på Nauta Shiprepair Yard SA. Den del af arbejdet med opbygning af en stor kasse ovenpå den tidligere cargobox samt ny accommodation område i tilknytning til staldene ombord samt malerarbejde, blev sluttet i februar i år.
Herefter blev "Alondra" forhalet til endelig udrustning under slæb af en polsk bugserbåd til Karstensens Skibsværft i Skagen. Her lå skibet frem til midten af juli, hvorefter det blev sendt afsted på sin første egentlige opgave som livestock carrier.
For værftet i det nordjyske, der ellers har udsolgt de næste mange år i forhold til specialet – nybygninger og ombygninger af trawlere, blev udrustningsarbejderne på "Alondra" en spændende opgave. Det gælder også for en af underleverandørerne som Scanel International A/S i Frederikshavn, der har stået for el arbejdet på skibet.
WORLD WIDE FART Med indretning af båse ombord på Alondra er der på fem dæk blevet plads til transport af op mod de 2000 malkekvæg. Dyrene står i specielle båse med vandautomater og særlige foderkasser samt et væld af backup systemer. Hver bås har plads til fem til ti køer. Under rejsen fra A til B vil dyrene som oftest ligge ned, kun når de skal have vand eller foder rejser de sig op. Dyrene tilpasser sig hurtigt de" nye verden også ved skibets rullende bevægelser under søgang, fortæller overstyrmand Gregorio G. Jaca til Maritime Danmarks udsendte. I gennemsnit vil skibsrejserne tage mellem 15 og 25 dage. Gyllen fra dyrene skyldes ned i render langs med gangene og løber så ned i en gylletank. "Alondra" har sit eget ferskvandsanlæg, mens køernes 340 tons foder udleveres fra fodervogne. Da "Alondra" skal gå i world wide fart, skal skibet godkendes af de australske myndigheder "Australien Maritime Safety Authority". Myndighederne Down Under går meget op i dyrevelfærd. Det ventes kun at være en form sag på det dansk ejede skib. Fra Skagen gik "Alondra" til Waterford syd for Dublin i Irland efter den første last opdrætskvæg til havnebyen Bandirma i Tyrkiet. REDERIET GRUNDLAGT 1892 Corral Line kan føre sin historie helt tilbage til 1892, hvor det oprindelig fik navnet C. Clausen D/S A/S – opkaldt efter den nuværende ejer shippingmanden og reder, Bjørn Clausens bedstefar, kaptajn Carl Clausen. Rederiet skiftede senere igen navn til Sønderborg Rederiaktieselskab i 1980. Bjørn Clausen er tredje generation. Med en konkursbegæring hængende over hovedet, blev det imidlertid besluttet at afhænde rederiet og fem skibe til dattersleskabet Corral Line A/S i 2002. Rederiet var kommet i store vanskeligheder som følge af det økonomiske kollaps i Sydøstasien samt udbrud af mund- og klovsyge i Europa og Sydamerika. Det førte til overkapacitet i markedet og ramte det sønderjyske rederi som en boomerang. I dag er rederiet still going strong. I Egernsund "træder" man dog forsigtigt i markedet efter de mange op- og nedture – udadtil er rederiet "lukket land" af konkurrence hensyn. I storhedstiden havde det sønderjyske rederi ikke færre end 15 skibe i sin varetægt – herunder ØK's "Kambodia", der blev ombygget og fik navnet "Linda Clausen". Som skibsreder hører Bjørn Clausen til en af de mest erfarne shippingfolk i Danmark. Bl.a. har han siddet i Danmarks Rederiforenings bestyrelse – nu Danske Rederier. Derudover har han gennem 10 år siddet i bestyrelsen for Den Danske Maritime Fond.