Luxembourg-headquartered Jan De Nul Group has booked an offshore jackup installation vessel at China's Cosco Shipping Heavy Industry.
Named Voltaire, the offshore vessel will be built to transport, lift and install offshore wind turbines, transition pieces and foundations. The Voltaire can also be deployed for the oil and gas industry, and for decommissioning of offshore structures.
Scheduled to be delivered in 2022, the four-legged DP2 Voltaire will feature a main crane with lifting capacity of more than 3,000 tonnes, an operating depth of 80 metres, and accommodation for 100 persons. The new vessel's large deck space of 7,000 sqm will enable it to optimise installations at sea and lower fuel consumption and emissions.
Financial details of the newbuilding deal were not disclosed.
Jan De Nul said the vessel will be designed to run on marine gasoil but fitted with an advanced exhaust gas filtering system by means of a selective catalytic reduction system and a diesel particulate filter.
Denmark's Knud E. Hansen will provide design review and contribute to the tender design package.
The Voltaire will be Jan De Nul's third offshore jackup installation vessel. The other two jackup vessels are the 2013-built Vole au vent and the 2011-built Taillevent.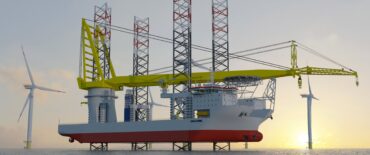 CONTACT US
GET IN TOUCH WITH OUR EXPERTS TO GET QUALIFIED ADVICE ABOUT YOUR IDEAS OR NEEDS