29 June 2016
It cost Portuguese taxpayers almost €70 million and sank the Viana do Castelo Shipyards. This is the story of a ship that was rejected by everyone for ten years and has now begun a new life.
Bergen, late 19th century. People are talking all over the town. A boat is soon to start departing every week from this historical port towards the north of the country, in Hammerfest, quite above the Arctic Circle. This is an isolated, frozen area, hardly accessible by land then and even nowadays. At the time, there were already ships that could make the trip, but the journey was too irregular and even dangerous. Boats would seldom travel at night, due to a shortage of lighthouses as they progressed further up north, making the journey even longer. That was why, if someone showed up in Bergen claiming that a boat could make that trip every week from the harbour towards the north, it would be the talk of the town. In 1898, a man came who promised to change everything, but In fact, the adventure had begun a few years before that.
Read about the design by KNUD E. HANSEN below.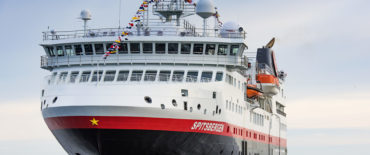 Download Materials