10 September 2017
Article from MarEx 2017-09-09 20:05:03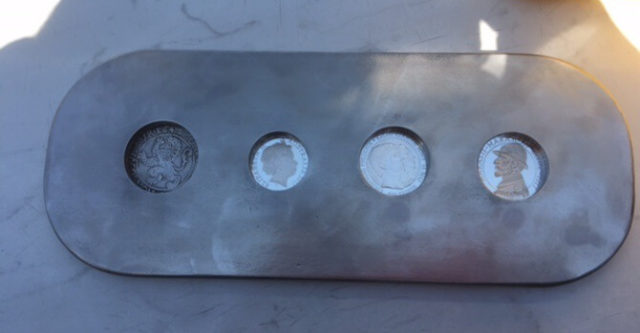 The first building block of Australia's new icebreaker was welded into place at a keel laying ceremony at Damen Shipyard Galati in Romania late last month.
The concept design was done by KNUD E. HANSEN, and Managing Director, Finn Wollesen attended the ceremony, along with Rasmus Nygaard from Friends of Nella Dan. They came bearing a Danish coin, depicting the Danish Crown Prince Frederik, and his wife – Princess Mary, who originates from Australia.
The vessel will replace the Aurora Australis and has the working title Nella Dan II. The original Nella Dan, built by Aalborg Shipyard, was launched in 1961 and for over 25 years served as a supply, expedition and research ship in the Antarctic and elsewhere. "It was an honor for us to be able to take part in the becoming of the new vessel," says Nygaard. "And even more of an honor that the Australian Antarctic Division treasures the legacy of the Nella Dan. We pass on the good spirit of camaraderie to the new ship."
The choice of another coin was also symbolic; it was a Dutch silver coin dated 1642, the year that Dutch explorer Abel Tasman become the first European to reach Tasmania. Tasmania is not only where the offices of the Australian Antarctic Division are located, but the island's capital, Hobart, will be the vessel's home port.
The heavy icebreaker was designed for the Australian Government to resupply their Antarctic bases and for research and scientific work. The vessel can deploy a wide range of vehicles, including helicopters, landing barges and amphibious trucks to support the resupply operations. The new ship provides a modern platform for marine science research in both sea ice and open water with a large moon pool for launching and retrieving sampling equipment and remotely operated vehicles.
Unique to the vessel is a hybrid propulsion system to provide both the high power needed for icebreaking and silent running for science operations. Sensitive acoustic instruments are mounted on dual drop keels and multi-beam bathymetric sonars will enable sea floor mapping. Flexible and modular science laboratories will provide scientists with diverse facilities.
The icebreaker, due to arrive in Hobart in 2020, will be the main lifeline to Australia's Antarctic and sub-Antarctic research stations.