PROJECT OVERVIEW
VESSEL TYPE: Arctic vessel, Cruise
VESSEL Name: 300 pax Icebreaking Expedition Cruise Vessel
Scope of work
Concept Design
Interior Design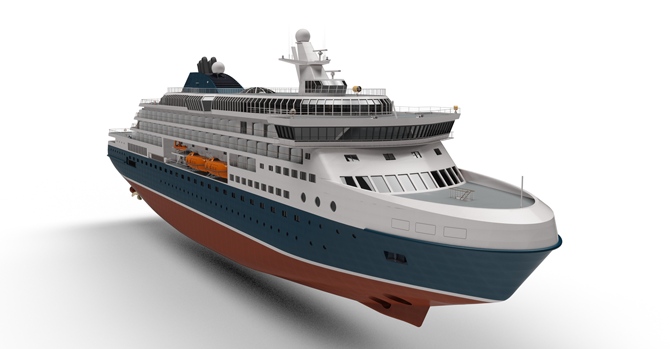 Concept design of 300 PAX Icebreaking Expedition Cruise Vessel with a high degree of operational flexibility and a wide range of sophisticated design features. At 144 metres long, the vessel can accommodate 300 passengers in 150 ultramodern cabins that offer an exceptional sailing experience.
The vessel has diesel electric propulsion, and two azipod-units, each 7,5 MW. There is also a large lithium-ion battery bank to power the vessel while dockside, resulting in no port emissions. The vessel has a range of 8100 nautical miles in open water. The vessel features a layout with public spaces including a bar/lounge, multi-purpose lounge, library, gift shop, observation lounge, fitness room/spa including a panorama ice bar, as well as a pool and jogging area. The vessel also features a large tender garage for stowing zodiacs and other expedition equipment that can be easily launched through a shell door on the port side.
The vessel is fully SOLAS compliant. KNUD E. HANSEN aims to achieve the highest level of survivability with strict adherence to Safe Return to Port (SRtP) requirements, as well as the Polar Code, for providing safe ship operation and protection of the polar environment.
Technical data:
Length o.a 144.20 m
Length p.o. 127.60 m
Breadth moulded 22.00 m
Depth moulded to deck 3 9.20 m
Scantling draught 7.20 m
Draught design 7.00 m
Deadweight 1,965 t
No. of Passengers (max) 300 pax
No. of Crew 150 prs
No. of Cabins 150 pcs
Service speed in open water 17.00 kn
Diesel electric power plant consisting of 6 generator sets each abt. 3800 kW
Azipod units, 2 x 7,5 mW
Tunnel thruster 2 x 1,500 kW
ICE Class PC3
A unique interactive space on the vessel that encompasses elements of nature while offering passengers the opportunity to acquire a greater knowledge of their natural surroundings.
The space comprises two decks at the forward end of the vessel with the lower deck featuring a collection of artifacts and exhibits, multiple displays and informative touchscreens, a library, as well as interactive equipment including microscopes and a virtual reality experience. There is also a wraparound bar on centerline and lounge areas with comfortable seating throughout the space. Oversized porthole windows on both sides provide plenty of natural light while allowing passengers to enjoy magnificent views. Up forward is a convertible lecture hall with a stage and removeable partitions to allow for integration with the exhibit space. The upper deck includes a smaller bar, science exhibits, lounge seating as well as full height, wraparound windows on the side and forward end of the superstructure which allow for stunning, panoramic views.
The space is outfitted with an ultra-modern décor that includes sustainable, natural wood finishes, adjustable LED lighting, and dimmable smart windows for optimal energy conservation. It provides passengers with an exceptional and unrivalled learning environment on the open seas with an equally comfortable place to relax and take in the beauty of their surroundings.
This design has been developed completely in-house, by the highly trained and experienced staff of naval architects, marine engineers and designers at KNUD E. HANSEN, who place the utmost importance on safety, efficiency and design ingenuity.
Interior Design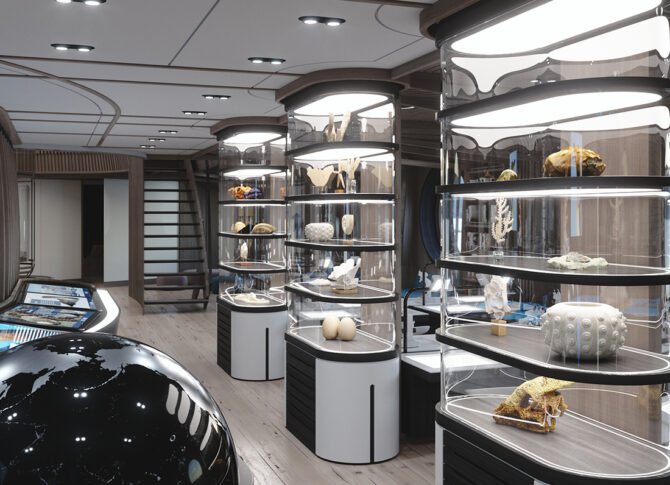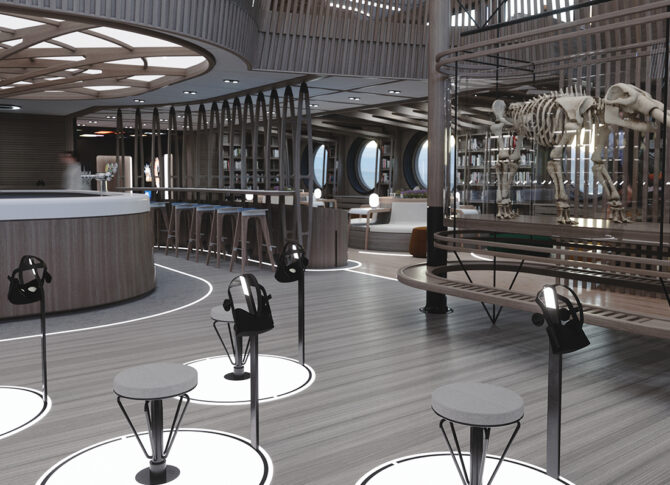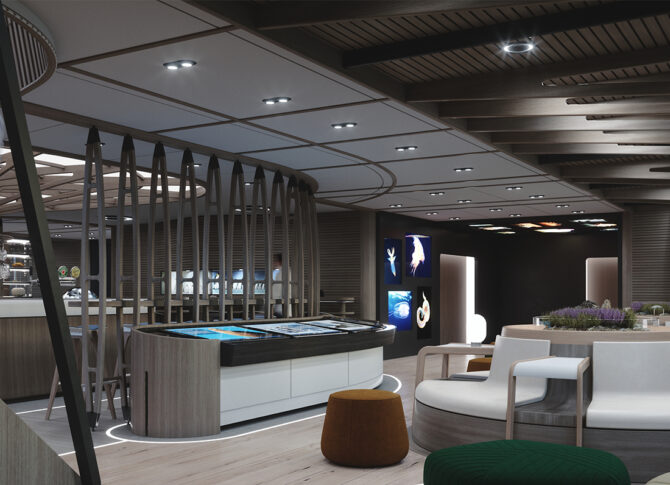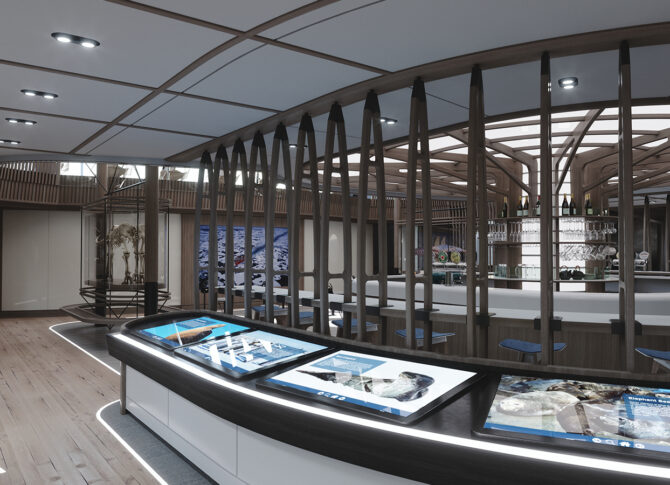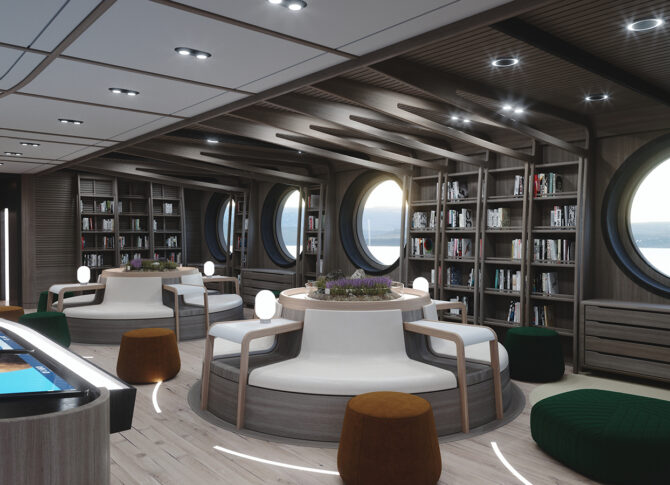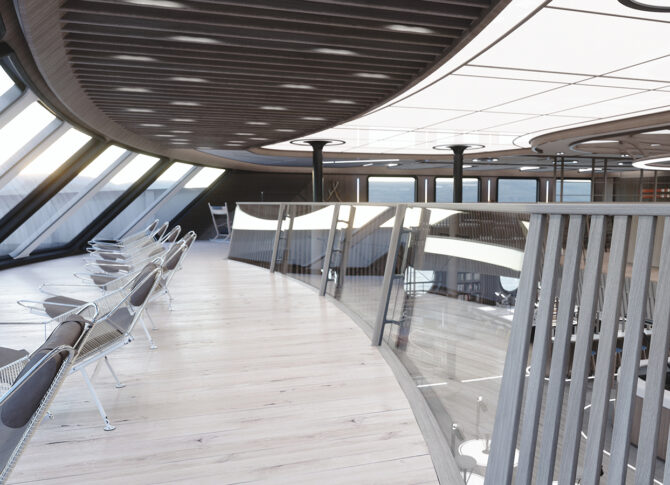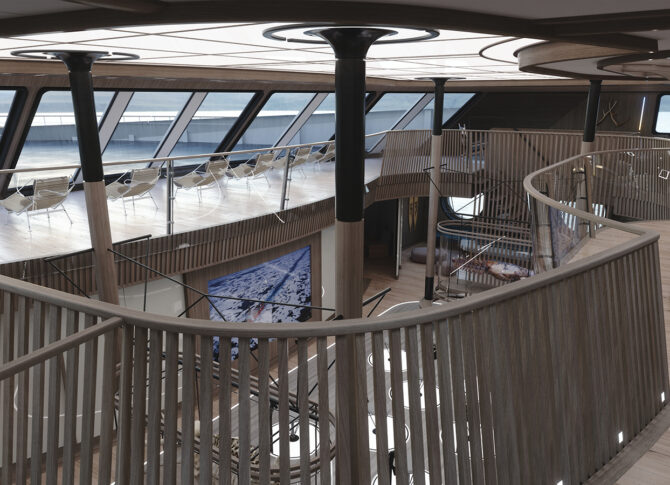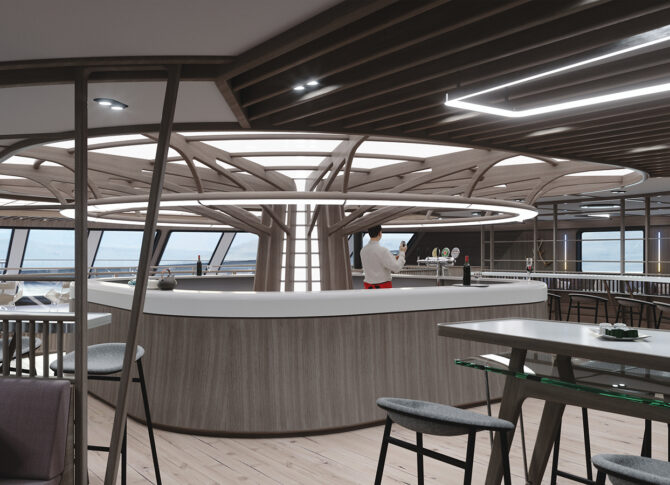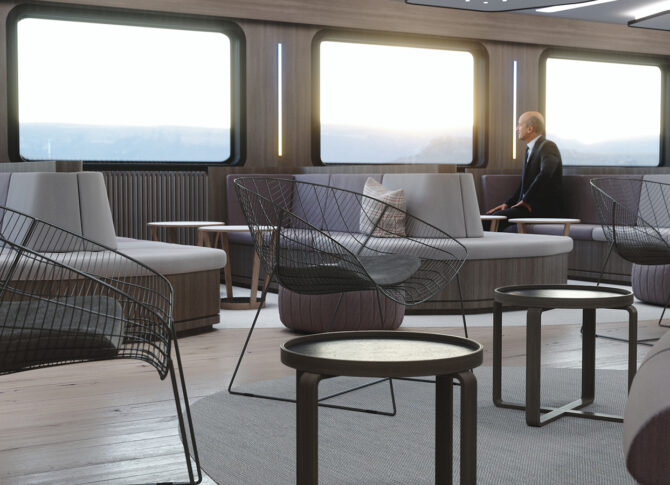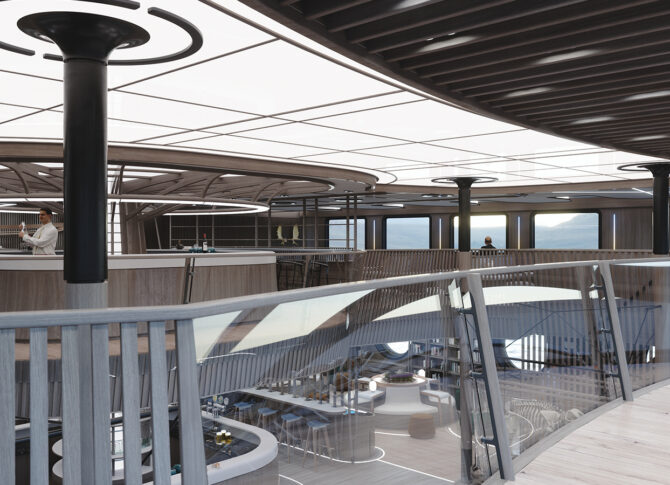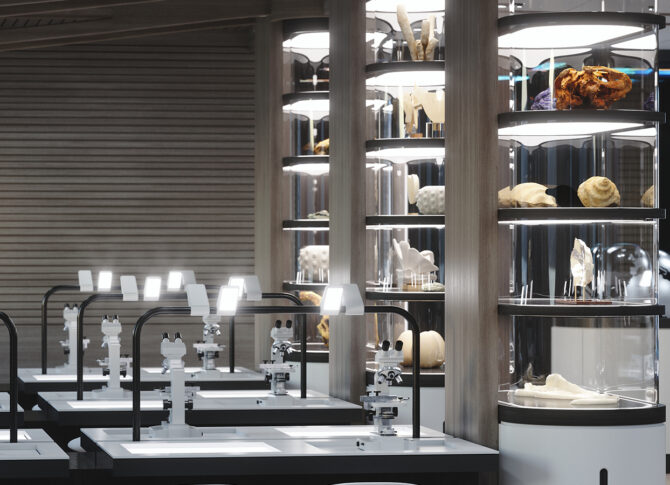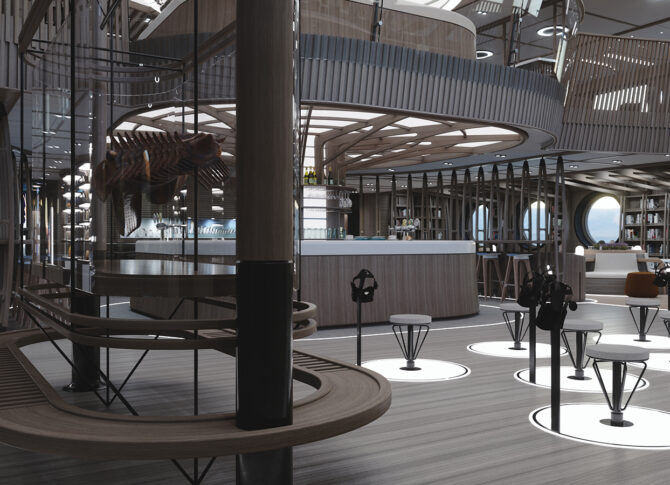 Interior Design lounge, pool and bar