11 November 2016
KNUD E. HANSEN off to a flying start in India after collaborating with local marine consultancy Smart Engineering & Design Solutions (India) Private Limited
KNUD E. HANSEN and Smart Engineering & Design Solutions (India) team up to design new link to Islands.
KNUD E. HANSEN (KEH) and Smart Engineering & Design Solutions (India) (SEDS) have recently teamed up to deliver two new vessel designs, each with two vessels to be built, for the Andaman & Nicobar Administration of India.  The larger of the two designs will provide a modern link between the Indian mainland and the Andaman & Nicobar Island Group to the east of the subcontinent with a passenger capacity of 1200 and carrying up to 1000t of mixed cargo.  The smaller vessels will be employed in the Northern/Southern group of the Islands, or running an interisland service and is designed to carry 500 passengers and 150t of mixed cargo.  Both designs will replace existing tonnage with modern vessels meeting the latest standards of comfort and safety.
The design process has been shared between the two companies, with KEH responsible for forming the initial concept for both vessels. For the smaller vessel SEDS have then taken the reins and further developed the design through the contract and basic design stages.  Throughout this process KEH has been responsible for conducting design reviews and providing additional ideas and inspiration. For the larger vessel the roles are reversed for the contract design with KEH producing the design, with critical review and evaluation from SEDS.  For the basic design the roles will again be reversed with SEDS taking on the primary design tasks.
The collaboration between KEH and SEDS has resulted in a unique design, capturing elements of both the local knowledge and experience of SEDS and the extensive passenger vessel design experience of KEH.  All four vessels are to be built at Cochin Shipyard in India and will sail with Indian Flag.
PRINCIPAL PARTICULARS
500Pax cum 150t Cargo Vessel
LOA: approx. 100.0m
B: 17.5m
Tdesign: 4.3m
Service Speed:16 knots
1200Pax cum Cargo Vessel
LOA: approx. 157.0m
B:21.3m
Tdesign: 6.1m
Service Speed:18 knots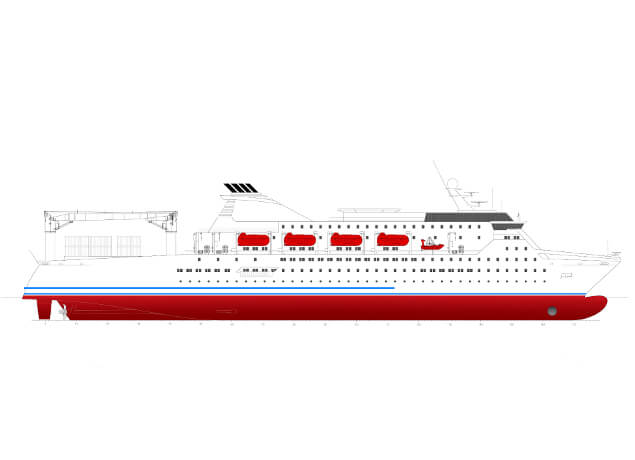 ABOUT KNUD E. HANSEN
KNUD E. HANSEN is one of the world's leading independent marine consultancies with more than 75 years of experience in ship & yacht design, with a proven track record in providing unique and cutting-edge solutions to the maritime industry. KNUD E. HANSEN employs more than 80 naval architects and marine engineers in Denmark, UK, USA, Greece, Australia and the Faroe Islands.
Our approach is based on a combination of continuous innovation, the free exchange of ideas with our clients, and experience derived from many years spent working with every kind of vessel and maritime operator. Using these, we apply fresh thinking to each new project and tailor solutions that are both state-of-the-art and practical to meet the exact needs of each individual customer.
ABOUT SMART ENGINEERING & DESIGN SOLUTIONS (INDIA) PRIVATE LIMITED
SEDS INDIA was established in 2014 mainly to meet growing demands for Ship design and Marine consultancy in India. SEDS INDIA is a wholly owned subsidiary of Smart Engineering & Design Solutions Ltd of Nassau, Bahamas with a branch office in Kochi, India established in 2007 to cater to international ship design requirements. SEDS is promoted by G T R Campbell Marine Consultants Ltd of Nassau Bahamas with a heritage of more than 70 years and more than 500 Ships.
SEDS INDIA with a team of about 60 Naval Architects, Marine, Electrical and Structural Engineers undertakes full spectrum of ship design activities from concept to completion.