PROJECT OVERVIEW
VESSEL TYPE: Fishing vessels, Special Purpose vessels
Vessel name: Fishing Vessel – Factory Trawler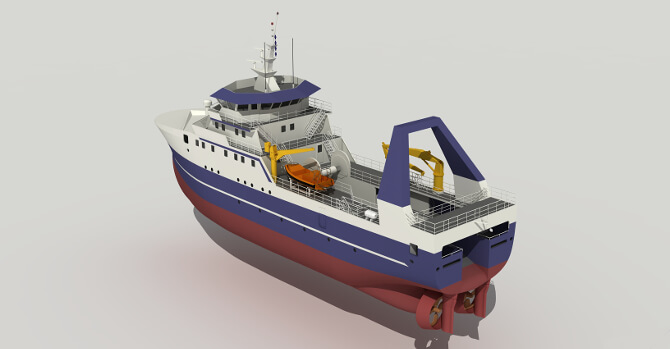 Laid out as a modern freezing trawler with two continuous decks and a partly covered upper deck, this trawler is intended to work as a single otter board and/or pair trawler for both bottom and/or mid-water trawling. The hold and engine room are located under the first deck which, in turn, holds the fish processing area. The trawl handling winches and other equipment are found on the second deck along with crew accommodation, which also extends into the superstructure. 
Technical Details
Length o.a. 50,00 m
Length p.p. 48,00 m
Breadth 11,25 m
Depth, Factory Deck 4,50 m
Depth, Trawl Deck 7,00 m
Draught, Design 4,45 m
Draught, scantling 5,00 m
Hold Volume 700 m3
Factory Deck Area 300 m2
Receiving Bin Volume 2×30 m3
Fuel 250 m3
Fresh Water 50 m3
Silage, etc. 80 m3
Service speed 12 knots
Propeller optimized for 5 knots (towing speed)
Alt 1 Traditional Diesel Engine via reduction gear Alt 2 Diesel Electric Alt 3 Hybrid (traditional D. E. with electric PTO/PTI) Propulsion Power, about 1500 kW
Propeller CP, Ø-3500 mm in nozzle, Propeller (alt) 2 azimuths in nozzles
El-Power Engines (apart from propulsion) 2×500 kW
Class designation DNV, Fishing Vessel, Stern Trawler, Option Ice C, Clean, Number of single cabins: 6, Number of double cabins: 8, Hospital, with 2 beds: 1
Enhanced operating efficiency and processing capacity are the key drivers behind the design of a new factory trawler from Denmark-based KNUD E. HANSEN.
CONTACT US
GET IN TOUCH WITH OUR EXPERTS TO GET QUALIFIED ADVICE ABOUT YOUR IDEAS OR NEEDS
Contact us