PROJECT OVERVIEW
VESSEL TYPE:  Ferries and RoPax, Offshore and Offshore Wind Vessels, Roro vessels, Special purpose
Vessel name: Hotel Vessel Wind Solution
Scope of Work
Inspection on board together with the owner, looking into details and selecting the best solutions
Creation of principle arrangements for different possible solutions
Detailed arrangements of final solution with arrangement in each cabin
Re-arrangement of existing sprinklers and fire detectors in cabins and corridors
Re-arrangement of firefighting equipment
Updating safety control plan
Re-location and increase of PA System Arrangement
Re-location and new installations of electrical outfitting
Updating insulation arrangement for Class approval
Principle HVAC arrangement
Weight calculation for conversion
New room number plan for all cabins on board
New Passenger Safety Instruction for all passenger and crew cabins on board
On board assistance during yard stay
Check of final arrangement on board and updating as-build documentation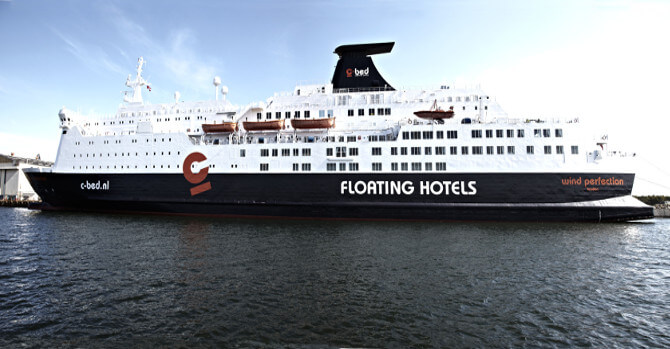 To increase the capacity of offshore accommodation for service personnel during offshore construction and commissioning of Wind Parks and other offshore construction activities, an additional 20 cabins of a high standard was arranged.
KNUD E. HANSEN has assisted C-bed from the first ideas to the final solution, follow up on board during the yard stay and as-built documentation.
The work was carried out at Fayard's facilities in Denmark during December 2014.
Main Particulars
Length o.a. 123,45 m
Breadth 19,61 m
Draught 5,25 m
IMO number 6918560
CONTACT US
GET IN TOUCH WITH OUR EXPERTS TO GET QUALIFIED ADVICE ABOUT YOUR IDEAS OR NEEDS
Contact us