PROJECT OVERVIEW
VESSEL TYPE: Special Purpose Vessel
VESSEL Name: Multipurpose Self Propelled River / Sea Going Vessel
Scope of work
Concept Design, including:
General Arrangement & Profile Drawing
Engine Room Arrangement
Outline Specification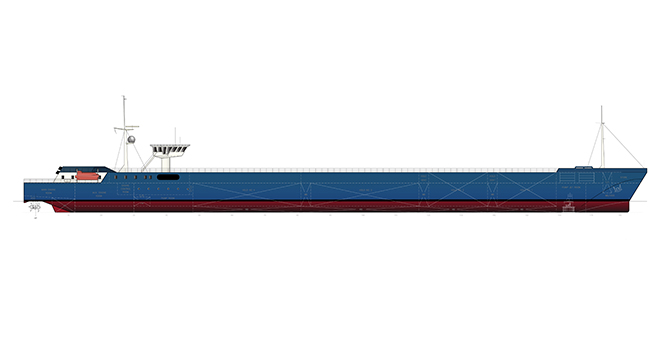 The vessel is a double-screw motor vessel for operation on river Danube, Russian rivers, Sea of Azov, Black Sea, Mediterranean Sea, and is provided with a high speed diesel propulsion plant driving two azimuth units each with twin propellers via cardan shafts.
The vessel is designed for carriage of bulk cargoes, containers and partly trailers. The cargo section is divided into four holds by three transverse watertight bulkheads. On the weather deck the hatch openings are fitted with hatch covers of pontoon type. Holds
nos. 1-2 are covered by four pontoon covers each, and holds nos. 3-4 are covered by eight pontoon covers each. The hatch covers are arranged for non-sequential opening. One deck crane is arranged for operation of hatch covers.
TECHNICAL DATA
Length o.a. 152.00 m
Length p.p. 145.00 m
Breadth moulded 22.00 m
Depth to deck 3, moulded 7.15 m
Design draught 2.70 m
Scantling draft 3.50 m
Deadweight (design max.) 5,030 t
Cargo 270,000 ft3
Containers 216 TEU
Lanemeters on deck 3 225 m
Contact us