Project overview
Vessel type: Ferries and RoPax
Vessel name: Spirit of Tasmania I, Spirit of Tasmania II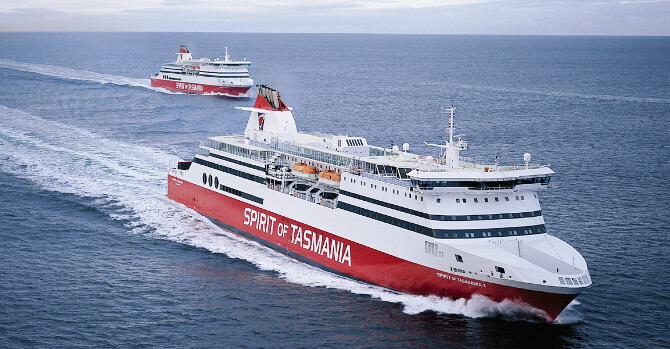 Spirit of Tasmania I and Spirit of Tasmania II were built in 1998 by Kvaerner Masa-Yards in Finland.
They have a displacement of almost 30,000 tonnes and they cross Bass Strait at a cruising speed of 27 knots. The vessels are operated by TT-Line Company Pty Ltd.
A refurbishment on Deck 7 leads to a re-establishment of the Muster Stations locations.
An advanced evacuation analysis was conducted according to IMO guidelines (MSC/1238) using AENEAS, an enhanced evacuation simulation software tool. The analysis confirmed the compliance with IMO performance standards and proposed various options for optimizing the post-refurbishment situation.
SCOPE OF WORK
Part A: Review of the current Muster Stations and Muster crew list was conducted along with performing an advanced Ship Evacuation Analysis according to the MSC 1238 guidelines, using AENEAS an enhanced evacuation simulation software tool.
Part B: Evacuation analysis on a variety of options, in post conversion arrangement. Proposals for optimizing the Muster Station locations and Muster Station crew list.
Part C: Further evaluation of one of the options examined in Part B, with a new optimized crew muster list and a new Muster Station arrangement in the post-refurbishment situation.
Capacity
of passengers: 1400
of berths: 748
of cabins: 222
Vehicle lane metres: 2,565 m
Speed
Max: 30.8 kn
Service (90 % MCR): 27 kn
Main Particulars
Length o.a.: 194.3 m
Breadth moulded: 25.0 m
Draught (design): 6.55 m
Deadweight: 5650 t
Classification: ABS
IMO number Spirit of Tasmania I: 9158446
IMO number Spirit of Tasmania II: 9158434
Ref. No.: 13031.22.3330, 13031.23.3330, 13031.24.3330
CONTACT US
GET IN TOUCH WITH OUR EXPERTS TO GET QUALIFIED ADVICE ABOUT YOUR IDEAS OR NEEDS
Contact us