PROJECT OVERVIEW
VESSEL TYPE: Offshore and offshore wind vessels
Vessel name: Pacific Orca & Pacific Osprey
Scope of work
Conceptual/Basic Design developed for the Owner, including:

General Design and Contract Specification

Line plans and supervision of towing tank and wind tunnel testing

Stability and lightweight calculations

Structural Design

Layout of machinery spaces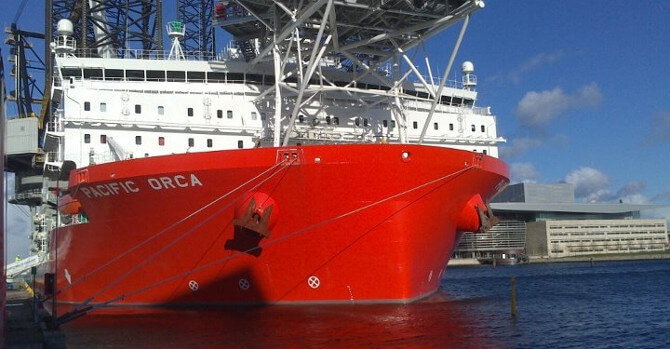 The vessel, which is a self-elevating self-propelled wind turbine installation/offshore support vessel, was designed for Cadeler A/S (former Swire Blue Ocean), Denmark, and was constructed at Samsung Geoje Shipyard and she was delivered in 2012.
The vessel is equipped with 6 truss-type legs and a high-speed rack-and-pinion jacking system. It is able to jack to a safe height of 22 m above the sea surface based on 75 m water depth, where it can survive even the most severe storm conditions. The 1,200 tonne leg-mounted main crane is capable of installing 500 tonne nacelles on top of turbine towers 120 m above the sea, and the 4,300 m² heavy-duty cargo deck has space for up to twelve 3.6MW turbines. The relatively fine lines in the bow gives the vessel a good speed even in heavy seas and the four bow thrusters in combination with the DP-2 dynamic positioning system gives it state-of-the-art manoeuvrability.
The crew accommodation holds 111 single-berth cabins with private bathrooms and all necessary facilities and offices.
Wind Turbine Installation offshore
Turbine installation vessels (TIVs) like the Pacific Orca designed by KNUD E. HANSEN, embodies the latest developments and technologies in turbine installation. The vessels have traditional vessel hulls, looking and operating like vessels. They have a large deck area that is used to transport components and used as work space while the vessel carries out the installation.
The vessels have jack-up and DP capabilities, fixed cranes and sometimes a helipad. Self-propelled, they can attain speeds of up to 13 knots, reducing transfer times considerably. In addition, once the vessel is jacked up, it is able to carry out operations in harsher weather conditions. Overall these vessels reduce installation times, create larger weather windows for operations, and reduce transport times.
Jackup Legs
Jackup legs on jackup vessels or barges are subject to extreme forces in volatile conditions, especially during the jacking up and jacking down process. A stuck or broken jackup leg can destabilize the entire vessel. As a result, proper design and manufacturing of the jackup legs is vital. Jackup legs can be differentiated based on a number of characteristics, notably by the number of legs, type of legs, method of seafloor stabilization and type of elevating device.
Number of Legs
Depending on its size, a jackup typically has four or six legs. A four legged jackup is the most common, but the newer turbine installation vessels (TIVs) are equipped with six legs. According to KNUD E. HANSEN, designer of the new Pacific Osprey and Pacific Orca, more legs increase the cost of the vessel, but provide substantially more stability and allow the vessel to continue operations in harsher weather. As wind farms move further away from shore, TIVs need to be able to work in harsher weather or face a reduced operational window.
Visit www.Cadler.com