PROJECT OVERVIEW
VESSEL TYPE: RoRo vessel
Vessel name: Bahri Abha, Bahri Hofuf, Bahri Tabuk, Bahri Jazan, Bahri Jeddah, Bahri Yanbu
SCOPE OF WORK
Concept and Tender Design, including:
General Arrangement
Tender Specification
Detailed weight and centre of gravity calculations, including distribution
Line plans
Intact stability calculations
Damage stability calculations
CFD Lines optimisation
Drawing approvals
Technical support to the Owner in the tendering phase as well as in the construction phase,including: Drawing approvals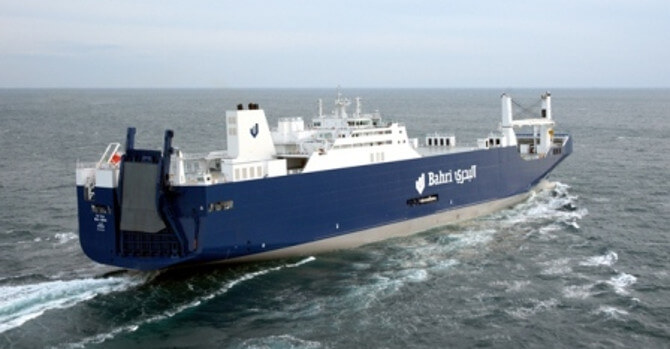 RoRo vessel with container capacity for Bahri
This Concept and Tender Design was developed for Bahri, (NSCSA) Kingdom of Saudi Arabia.
The vessel is flexible, has a large capacity and is optimised for fast turnaround in harbour. Fully independent with regard to maneuvering and loading/unloading, these six vessels are unique given that their size is smaller than others in the Bahri fleet, yet they in total have more cargo lifting capabilities and lower fuel consumption. It is estimated that these lighter weight new vessels will consume 45 % less fuel than the current ships, thereby delivering considerable cost savings.
Main Dimensions
Length o.a. (approx.) 225.0 m
Breadth moulded 32.3 m
Draught 8.9 m
Scantling draught 9.5 m
DWT (approx.) 26,000 tonnes
RoRo space capacity 24.800 m2
Container capacity 364 TEU
Service speed (85 % NCR and 15 % sea margin) (approx.) 17 kn
Diesel, Main engine (MCR) 12.500 kW, Aux. engines 2 x 1.500 kWe + 1 x 2.200 kW all at 720 rpm
Shaft generator 2.200 kW
Classification Lloyd's Register
Identification number KEH 10039
Winner of a 2013 ShipPax Award
The award was presented in recognition of the efficient and innovative design of internal cargo arrangement.
The press wrote about us: World Maritime News, Maritime Excecutive, Maritime Danmark, Helsingør Dagblad.
Significant Ship of 2013
The vessel has also been appointed to be Significant Ship of 2013 by The Royal Naval Architects.
ShipPax Award 2013
This document is to certify that BAHRI ABHA has been awarded for the Internal layout of a deep-sea ro-ro, to economically transport a wide variety of cargoes. This award is presented to KNUD E. HANSEN.
We award trendsetters in the ferry, cruise and ro-ro shipping industry, for the benefit of passengers and customers.
Classification Lloyd's Register
IMO number Bahri Abha 9620944
IMO number Bahri Hofuf 9620956
IMO number Bahri Tabuk 9620968
IMO number Bahri Jazan 9620970
IMO number Bahri Jeddah 9626522
IMO number Bahri Yanbu 9626534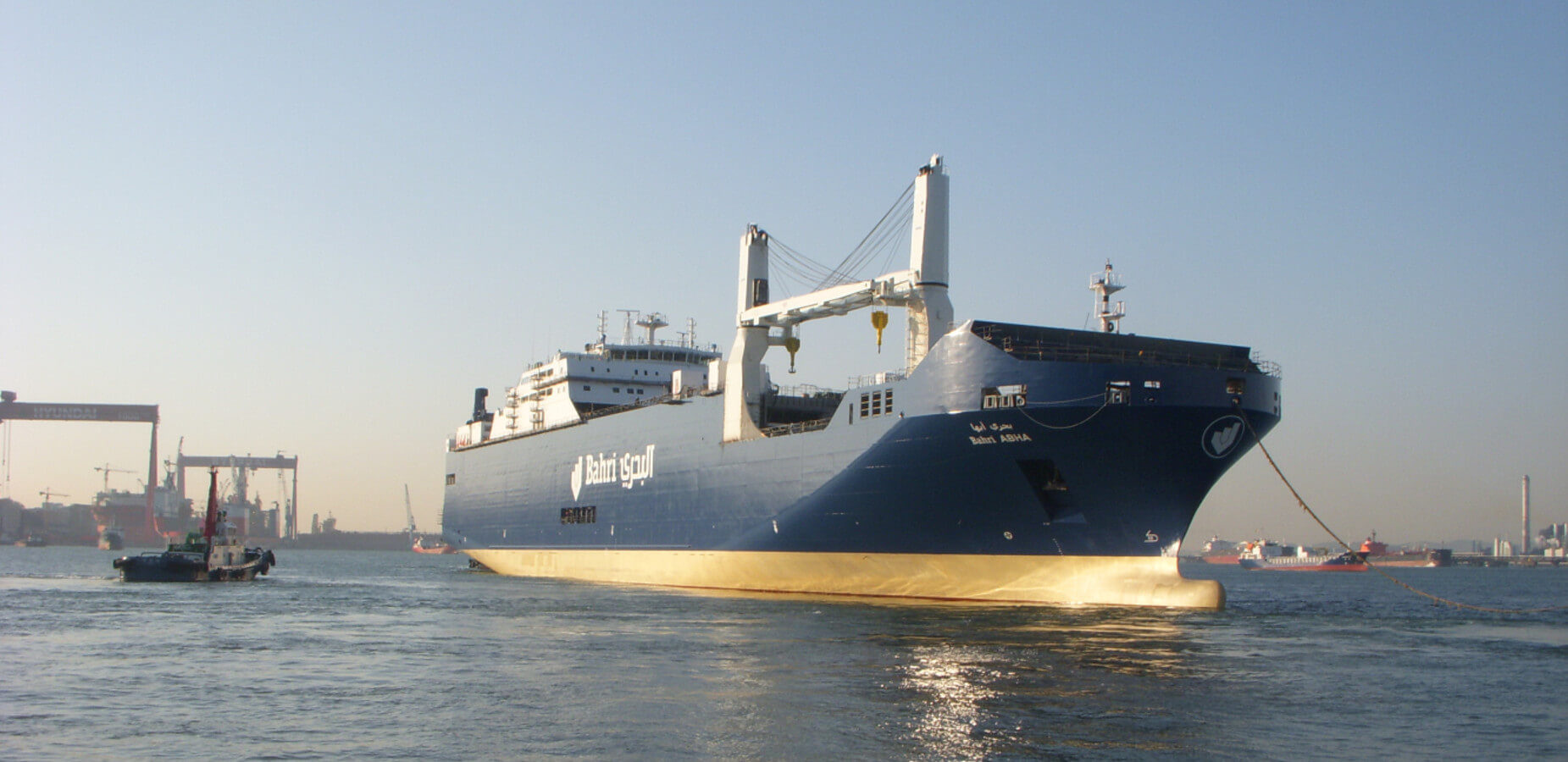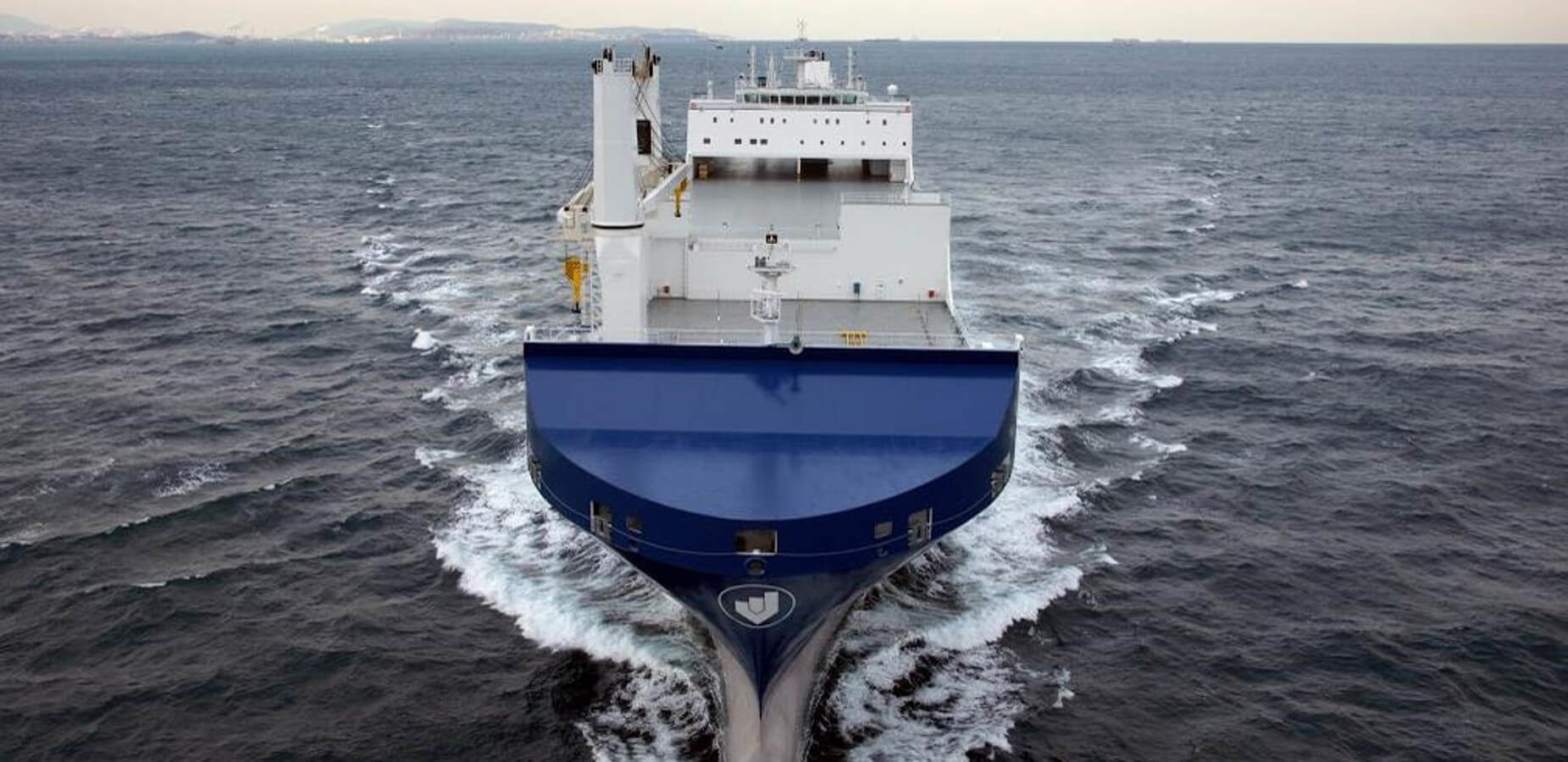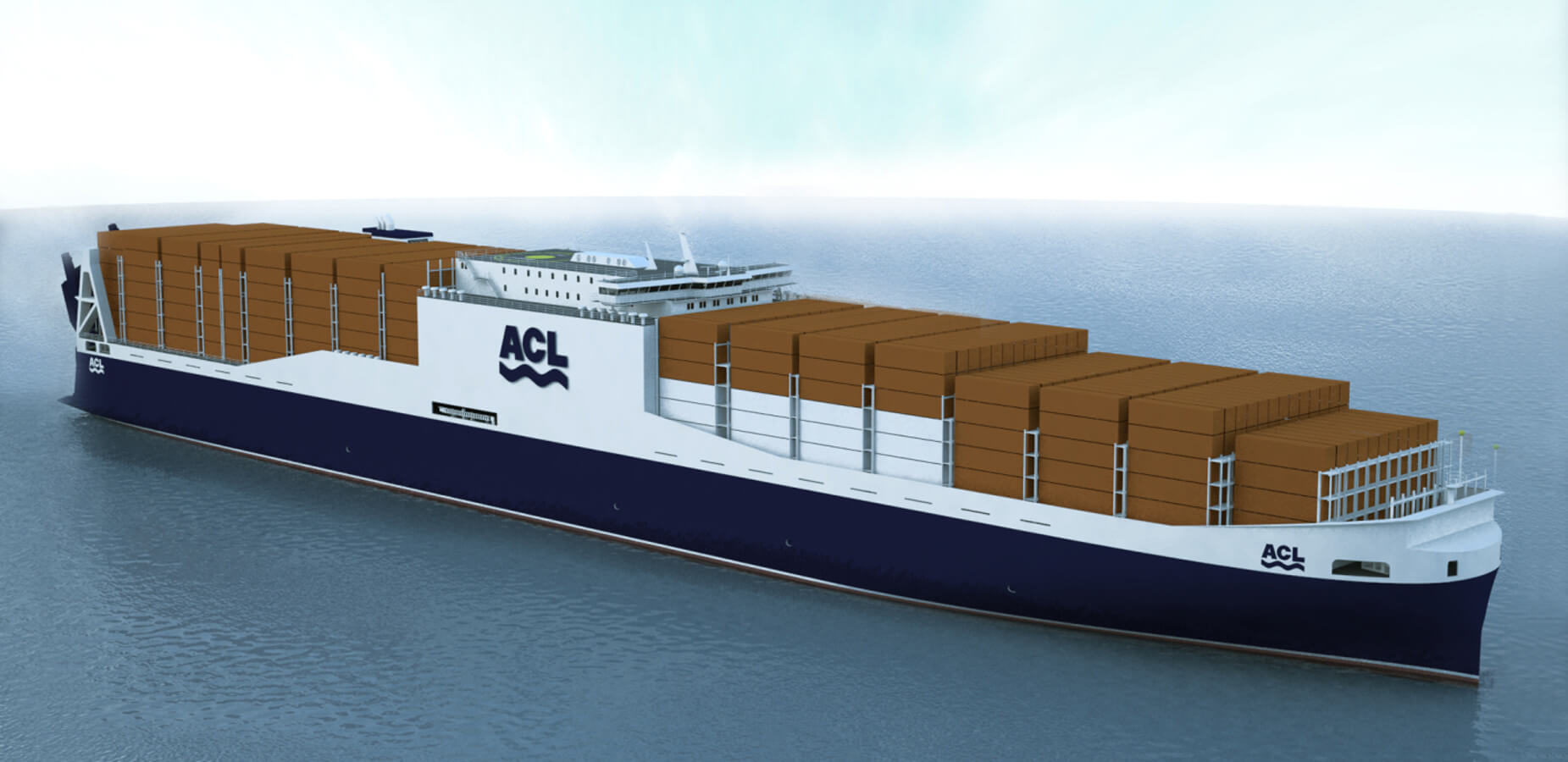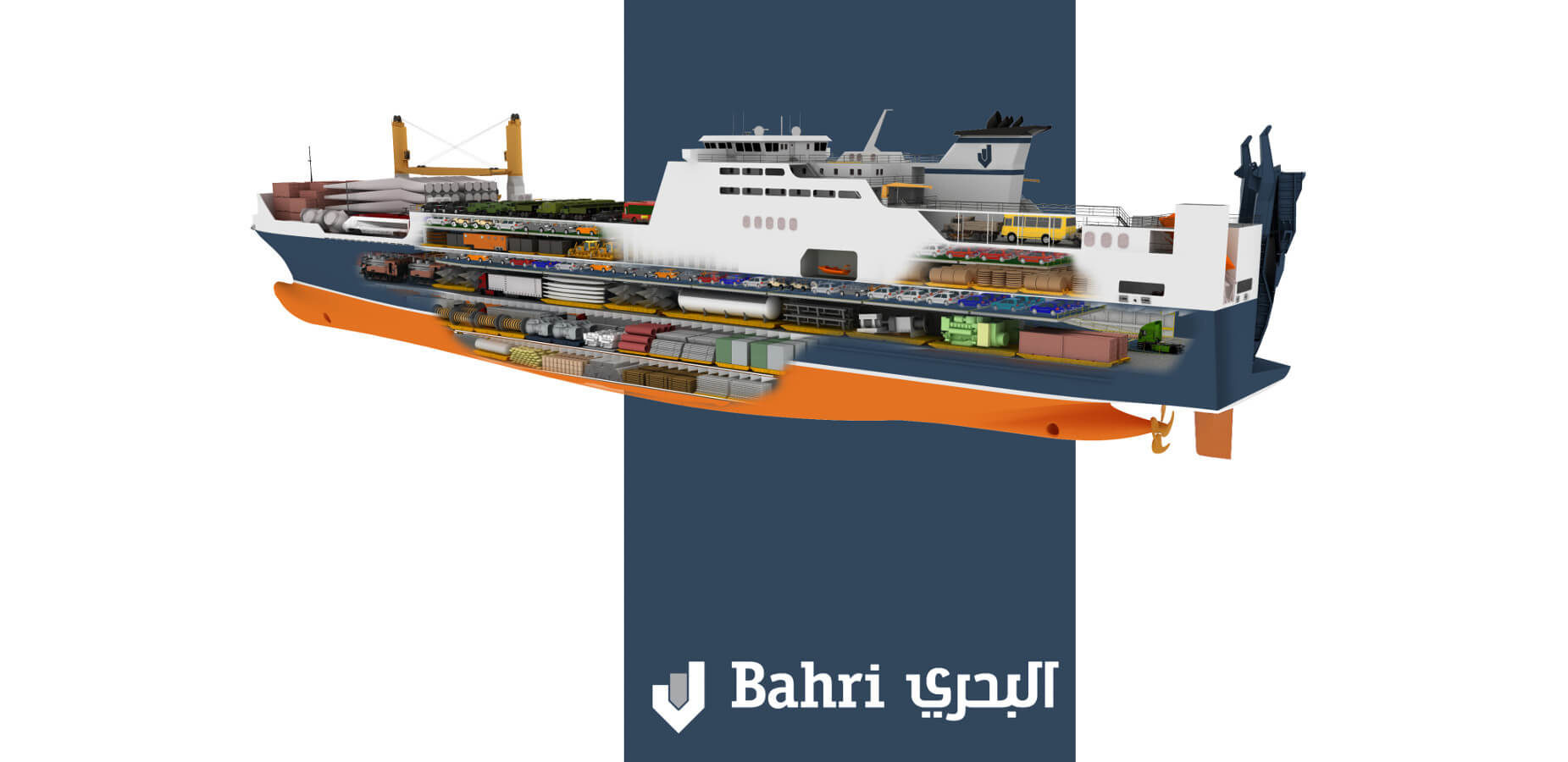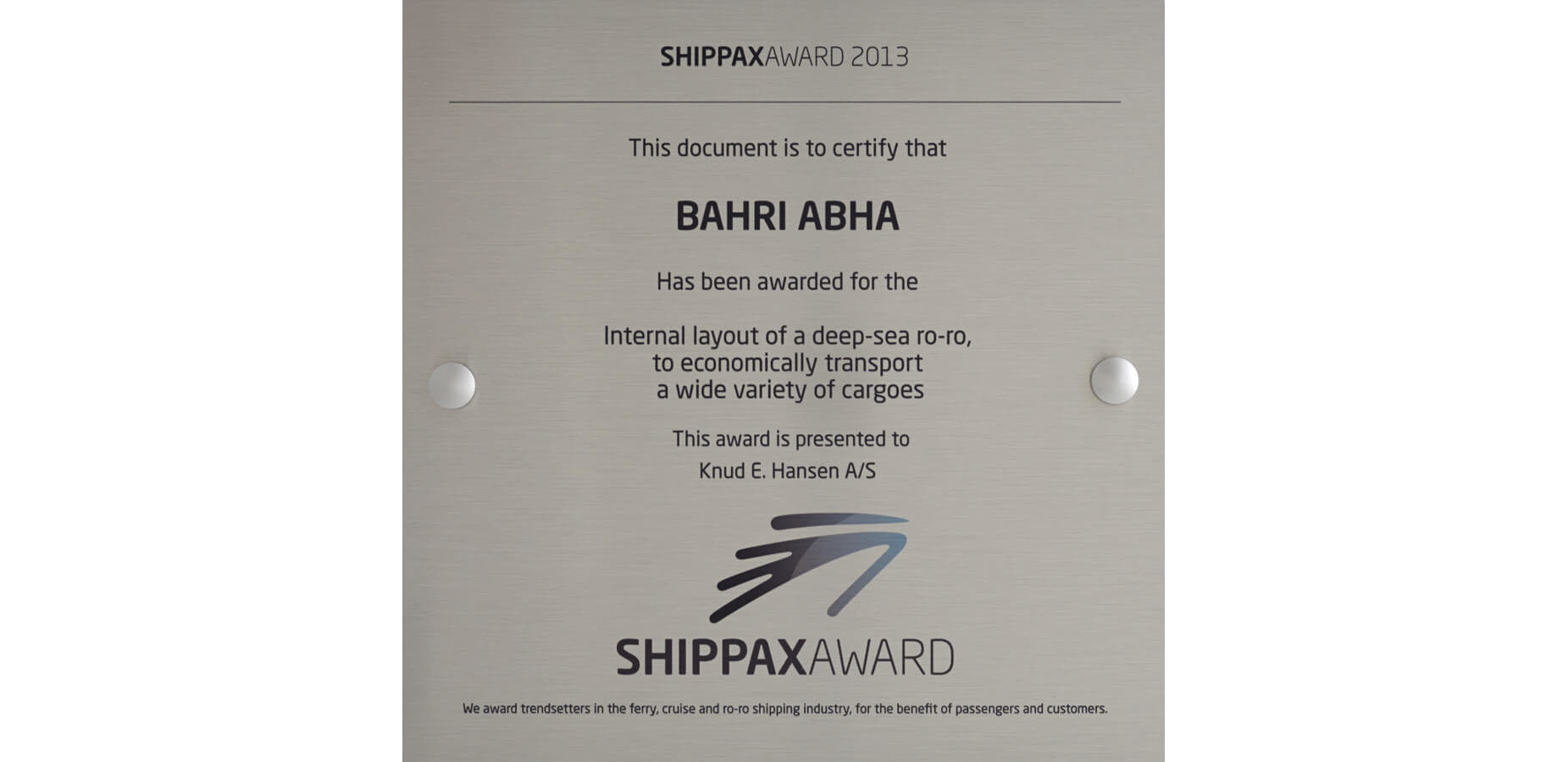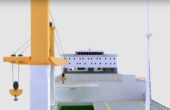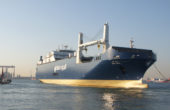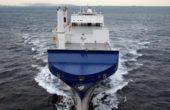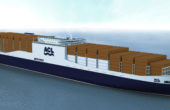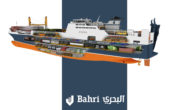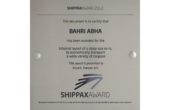 Contact us